"God is faithful, by whom you were called into the fellowship of his Son, Jesus Christ our Lord."  1 Corinthians 1:9
Life Together focuses first and foremost on the fellowship of our Lord in the Divine Service. It also involves quite literally a life together. We live together not just on Sunday morning but in life: uplifting, supporting, and encouraging one another.
For events and activities at Bethlehem, we invite you to check out our newsletter and calendar. Also, join us on Facebook or follow us on Twitter for more up-to-date announcements. 
Bethlehem Star Newsletter
Stay updated with the church happenings with the Bethlehem Star Newsletter! If you would like to receive email notification each month for the newsletter, or if you need older newsletters than posted here, please contact Lora, the Church Secretary in the church office or by email. The Bethlehem Star is printed and posted one week before the 1st of the month. For those who request, Lora will put in your church mailbox and extra copies are located at the 'Welcome Center' in narthex.
Family and Youth Groups
Youth Group activities are led by volunteers. Please contact your assigned Elder to get information about the different youth groups that are currently available at this time.
LYF – Lutheran Youth Fellowship (high school aged youth)
BYG – Bethlehem Youth Group (middle school aged youth)
KFC – Kids For Christ (elementary school aged youth)
Lutheran Women's Missionary League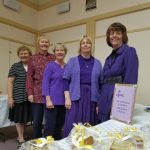 The Lutheran Women's Missionary League (LWML) is the official women's auxiliary of The Lutheran Church—Missouri Synod (LCMS). For almost 75 years, the LWML has focused on affirming each woman's relationship with Christ, encouraging and equipping women to live out their Christian lives in active mission ministries and to support global missions.
The LWML is the leading group for LCMS women where each woman is welcomed and encouraged to use her unique God-given gifts as she supports global missions and serves the Lord with gladness.
Here at Bethlehem Lutheran Church our LWML meets the 2nd
 Tuesday of each month at 6PM in the Fellowship Hall for our monthly meeting and fellowship. All money raised at fundraiser events goes to mission projects- local, national and international.
Every December we host our annual Advent Tea. All women are invited for a fun afternoon of entertainment, delicious cookies, tea and Christian fellowship. 
For more information please contact Diane Drumm at dianedrumm@gmail.com or call 775-815-0333.
Silverlights (50+)
SilverLights is a social group for all who are 50+ (and Pastor is allowed too).
We meet on the 3rd Wednesday of the month at 11:30am. Bring your own lunch to the Fellowship Hall of the church.